Why Winter Tires? - Traction, Tread, and Specialized Material to Handle Winter's Cold
Are you wondering whether winter tires are different from other tires? We'll breakdown the differences and hopefully help you decide on whether you want to purchase winter tires.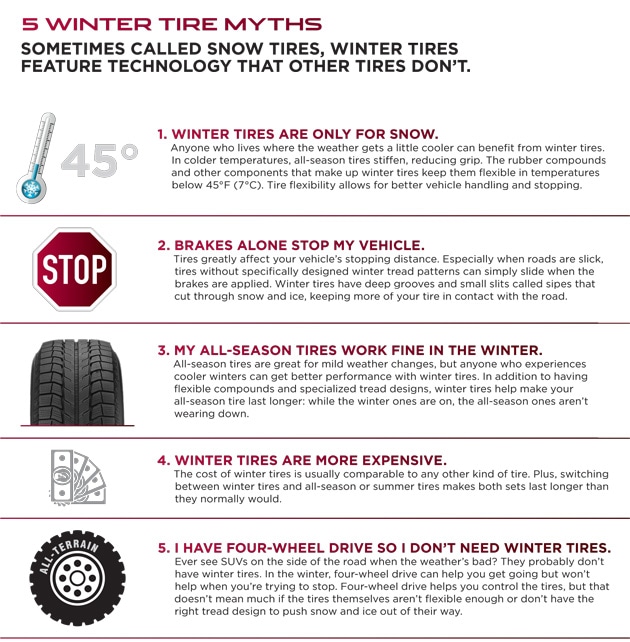 First: Are winter tires different than say, summer or all-season tires? The short answer is yes. Winter tires differ from all-season and summer tires in a few ways: material, temperature adaption, tread, and biting edges. These differences translate into better traction, performance, and (hopefully!) increased confidence on snowy, icy roads.
Winter Tires - What's So Different?
Winter tires are made of different material that allows them to stay flexible and adaptable even at extremely cold temperatures. Additionally, winter tires come with deeper, more aggressive tread that provide drivers with improved traction due to their ability to deal with snow and slush buildup. This means better stopping power in winter conditions! Winter tires also have more "biting edges", which is essentially lots of small slits in the tread that provide improved traction (specifically on icy roads). Comparatively, all-season tires are made to be adaptable between two seasons, but in that adaptability, all-season tire loses some winter functionality. So, if you want a tire that's going to boost your confidence while driving on snowy, icy, and cold roads; winter tires should be considered.
Robust Selection of Winter Tires Available at Land Rover Glen Cove
Thinking of purchasing a set of new winter tires for your Land Rover SUV? Stop by Land Rover Glen Cove today and let our service and parts teams assist you with all your tire needs! With an extensive selection of available winter tires for drivers to peruse, we'll find a set of tires that meet your needs! Visit Land Rover Glen Cove today and find a set of tires to take on the winter with!