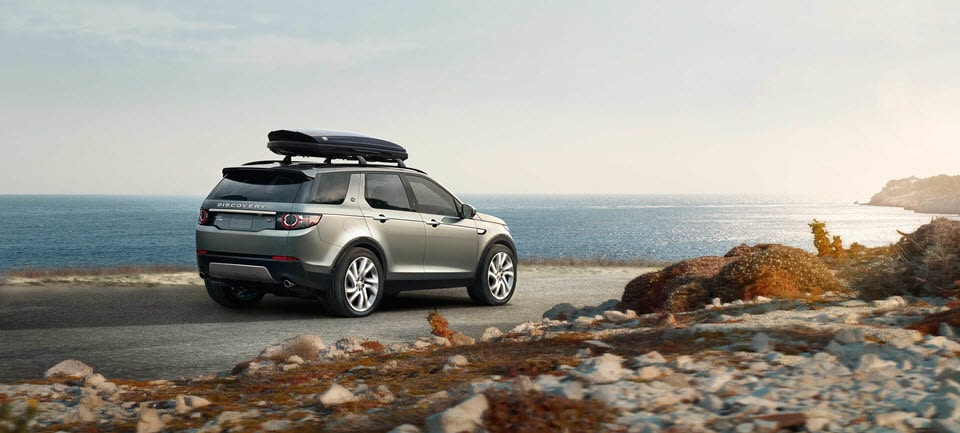 ​
At Land Rover Glen Cove, we know every driver from Port Washington to Sea Cliff has a unique lifestyle. That's why we choose to live on Long Island! From New York City nights, to ski weekends up north, and of course summers in the Hamptons, we are masters of the weekend road trip. Luckily for you, we have all the best accessories for your Land Rover right here in Glen Cove, as well as experience technicians that can install your new accessories in minutes.
Raise the Roof
Your first step when considering which roof accessories you need on your vehicle is to install Roof Rails, expertly engineered for optimal weight distribution and available in black or silver. These rails are compatible with all Land Rover roof-mounted accessories and can hold up to 220lbs. of cargo.
Now discover which roof-mounted accessory is right for you! For winter adventures, the Ski and Snowboard Carrier easily hold up to four pairs of skis or 2 snowboards. When you stop for dinner on the way up to the mountain, you'll be able to enjoy the rest-stop worry-free knowing your equipment is securely locked when you step away from your car.
When the ice melts and the sun is shining, it's adventure time on the Long Island Sound. Hook up the Aqua Sport Carrier and explore your favorite launch sites with your kayak, kiteboard, or canoe secured to your roof. That's a Saturday well spent!
Maybe you're more of a land sport enthusiast? Explore your favorite trails with the roof-mounted bike carrier for an easy-to-use system to transport your bike safely and securely, without trying to shove it in your trunk. The Roof Rails accommodate two bikes, so grab a buddy and get cruising!
Thinking about a box? Land Rover offers three different types of boxes. From the classic Luggage Box, to the Sports Roof Box and the Sports Roof Box- Large. All versions attach to the Roof Rails with power-grip mounting and feature an aerodynamic design with a gloss-black finish. Don't need your box all-year round? Check out the Universal Lift and Load System that mounts to your garage ceiling, allowing you to store your roof box and mount/remove it with the ease of a pulley system
Make It Your Own
Whatever you need to make your vehicle uniquely yours, we've got it. Check out our exterior accessories that enhance the silhouette of your Discovery, Range Rover Velar, or Range Rover Sport, with the Dark Atlas Exterior Trim Pack. Get a leg-up with Electrically Deployable Side Steps, or add a true personal touch with Personalize Illuminated Tread Plates that subtly illuminate a script of your choice, welcoming you into your vehicle every time the door opens.
If you can dream it, we probably have it! Discover more at our Parts and Accessories Center in Glen Cove, Long Island.