Choosing between the Land Rover Range Rover Sport and Range Rover Evoque Can be Tough, but Land Rover Glen Cove is Here to Make Things Easier for You
When it comes to luxury SUVs that you can feel confident heading off-road with, but that also fit in perfectly with more elegant settings, you will have a hard time matching what the 2018 Land Rover Range Rover Sport and Range Rover Evoque can provide here at Land Rover Glen Cove. With savvy interiors, smooth powertrains and refined body designs, these sophisticated utility vehicles have both the sportiness and graceful makeup that you may be searching for in your next daily driver.
So how do you end up differentiating the two different vehicles to arrive at a decision on which model to proceed with? Coming down to personal preference, there are some important factors to consider that will help you decide what vehicle meshes with your lifestyle and expectations. Land Rover Glen Cove is here to help reveal these deciding points and help you with context prior to your next trip to our showroom!
2017 Range Rover Sport and Range Rover Evoque: Comprehensive Comparison
Price
For a more potent engine, a larger frame, more interior space and better maximum cargo capacity, you will pay a decent amount more for the Range Rover Sport over the Range Rover Evoque. The base MSRP of the Range Rover Sport comes in at approximately $66,645, while the Range Rover Evoque starts at $42,795. The pricing factor for these luxury SUVs comes down to how important size, performance and other differences may be, as both vehicles have plenty to offer shoppers seeking a transcendent commuting experience.
Performance
The base 3.0-liter V6 engine in the Range Rover Sport is plenty powerful, with 340 horsepower and 332 pound-feet giving you the ability to feel confident in both traffic and out on the trail. With a 2.0-liter I4 engine in the Range Rover Evoque, you still can experience dynamic driving. This engine produces 240 horsepower and 250 pound-feet respectively.
The V6 engine in the Range Rover Sport does sacrifice a bit of fuel economy for that advantageous force underneath the hood, with the Range Rover Evoque excelling in efficiency through 21 miles per gallon city and 29 miles per gallon highway. The Range Rover Sport is still very respectable in this regard, however, with 17 miles per gallon city and 23 miles per gallon highway supporting your travels.
Size
The Range Rover Sport has size advantages through a number of respective dimensions, bringing your decision down to the comfort you feel with smaller or larger luxury SUVs. This model is larger in width by 81.6 inches to 78.1 inches respectively, with a 70.1 inch to 64.4 inch gap in height. It is also longer by nearly 20 inches, with more maximum cargo capacity than the Range Rover Evoque at 62.2 cubic feet.
Common Features
Both the Range Rover Sport and Range Rover Evoque come filled with modern amenities and advanced appliances for your entertainment and convenience. Standard leather upholstery and power seats add another layer of comfort, while keyless ignition and parking assistance are also included to prevent you from overworking in different situations. Bluetooth connectivity is also a base feature, as being able to interact with friends and family at all times is always an important consideration.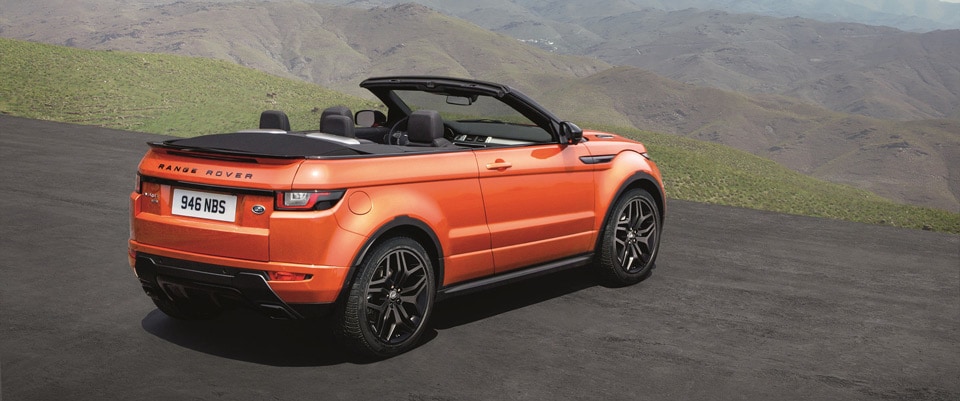 The Range Rover Evoque is also available in an attractive and exciting luxury convertible SUV body style.
With these differences in mind, it comes down to what you're looking for in the next Land Rover luxury SUV that you're driving and where your personal traits and characteristics align best with. Regardless, Land Rover Glen Cove is here to help you choose between both of these inspiring options! If you visit our showroom soon, we can walk you through more of the details, and even set you up for a test drive in both new Land Rover models to see which vehicle feels right.